5 Most Luxurious First Class Airplane
Why not fly in style when you have expendable budget – at least that's one of the best parts of being a successful person. Since being on an airplane can be very tiring, especially when your flight is more than 10 hours – a luxurious and comfy first class cabin is the least needed. You don't have to pack your sleeping pills and neck pillow with you because there are better ways to have your flight undisturbed and in peace. Therefore, here are the five most luxurious first class cabins from widely-known airplanes that will guarantee you with satisfaction and comfort during your luxury journey in the front side of the plane.
1. Singapore Airlines
The Singapore Airline's first class was designed like a cocooned sphere with spectacular sensory moments, from the fancy texture of a diamond-comforter leather armchair to the tender and cozy of cove lighting that reveals unfathomable some storage spaces. The airline has partnered with Michelin-starred chefs like Suzanne Goin of A.O.C., Lucques and Tavern in Los Angeles and Alfred Portale who is from Gotham Bar & Grill in New York – ensuring the culinary satisfaction onboard.
2. Air France
The Air France's first class was designed to incarnate the luxurious essence you would hope from the airline's origin country. Called the boudoiresque suite, it offers sound-absorbing curtains that are designed in suede and leather and attached to the curtains that are a slate-gray ottoman, and a sea-horse look-alike lamp. If hunger strikes you while onboard, do not worry as you can enjoy the Atlantic lobster alongside the curried coconut sauce served by Daniel Boulud. The tweed-covered seat and very fluffy pillows will sweep away all your tiredness in an instant.
3. British Airways
The British Airways' first class service features additional storage (a case for handbags or shoes, mirrored cabinet, and wardrobe, compartment for tablets and plugs just beside your armrest) with chrome finished and hand-stitched leather. It has dual-screen viewing through a 23-inch flat screen and a smartphone-like handset. You can also enhance your classy onboard experience with afternoon tea served along with salmon sandwiches and scones.
4. Etihad Airways
The Etihad Airways first class was designed with a three-room suite that has a desert-imbued color palette and grating pattern that will give you a sensation of flying in a private jet. You will earn your satisfaction in a glimpse by an inflight chef with his main courses that are plated on 24-carat gold-plated tableware porcelain by Bernardaud. You will have your own a Savoy Hotel-trained butler to fulfill your needs. The private shower, designed with a magnificent Acqua di Parma products will refresh your whole body and soul!
5. Luthfansa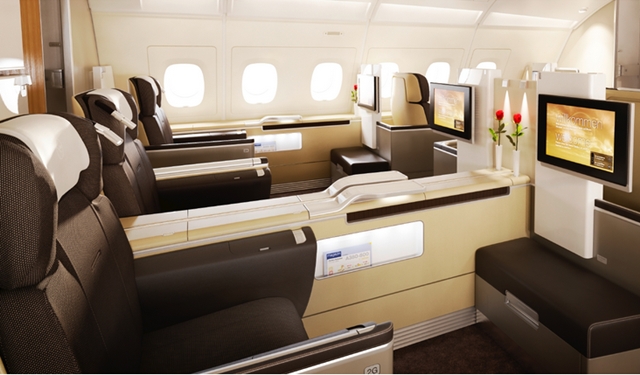 The Lufthansa's first class was designed with gray and caramel brown compartments, noise-neutralizing cellophane tape covering the floor to avoid the unnecessary and disturbing sounds, and humidifiers to control the climate of your cabin. You will get to taste the generous offer of caviar that is served before the multicourse meal prepared by in-flight chefs such as Diethard Urbansky from Munich. The bar station can be found in the center of the cabin with free-flowing of wines and various chocolates. When you feel tired, you will have a Paradies-made bed perfected with percale sheets and a large and fluffy temperature-regulating pillow.